JMP-rope, the programmable jump rope
Mix sport, technology and art and you get the perfect project.
I really enjoy art even though I am not much of an artist myself, I am definitely a technologist (more of a researcher of technology than a user TBH), and I've become a sports person too in the latest years, in particular I discovered how jumping rope can be a fun way to do cardio, way funnier than playing hamster on the treadmill; and each time I was jumping rope I started thinking about a tech project involving a jump rope.
Now here it is: I call it JMP-rope, the programmable jump rope.
It's a device made of a programmable LED strip attached to a jump rope, which can be used with high exposure photography for Light Painting.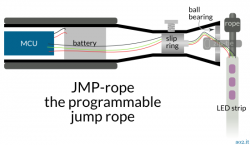 The principle behind it is the same as those cool POV (Persistence of vision) displays.
For technical details, check out the posts about the hardware and the the software used to make the photographs below.
If you are a jump roper, a pixel artist, a photographer, or "just" a hacker and have some ideas involving a JMP-rope: drop me a message and JMP on board.
I am even thinking about applying the technique to ferris wheels, has anyone got one I can borrow?
---